From Saudi Arabia to Seoul, with pit stops in Mexico, Rome, Monaco, Berlin, Jakarta, Marrakesh, New York and London, Season 8 of the ABB FIA Formula E World Championship was an incredible ride for spectators and our team at CSM Live who have been to every round delivering unforgettable experiences and backdrops to the drama on the circuit for an eighth season in a row.
Season 8 of the pioneering motorsport series saw our team work across 10 different locations and 16 rounds of racing worldwide as we helped the series champion it's mission of fighting climate change on a global scale. The season also saw our team venturing into new territories for the first time, like the thrilling season-finale in Seoul which brought up a century of races for Formula E and the 100th we have worked with them on at CSM Live having been involved from the outset.
During that time, the scope of work has multiplied for our team. Working with eight times the revenue, three sets of kits and three 40ft high cube containers per kit, compared just the one back in Season 1, the team have adapted to new challenges and grown as a result since the start of the series in 2014.
With a total experience of 23 Formula E seasons between them, we have caught up with the team delivering the fastest growing motorsport series on the planet to find out there highlights, favourite circuits and the challenges they faced during Season 8…
What was your highlight from Season 8?
Liam: Surprising Rita with her leaving present.
Gino: Marrakech. My first time being in this country and my first race.
Andy: Seeing the CSM team working together and doing a great job across the season.
Tom: Searching for the Formula E offices in Seoul and being confronted with 100+ waddling Pikachu's ready for a parade.
Becki: Watching Race 3 from inside the Forosol in Mexico – a huge crowd, great atmosphere and an incredible experience for my first one leading on track branding for Formula E.
Anna: Jakarta race as a whole. First time doing a race there and great to see the positive publicity it received.
Will: Watching the race from the Foro Sol – amazing atmosphere!
Jaz: Leading events for the first time.
What was the biggest challenge you overcame?
Liam: Seoul floods.
Gino: Working with a new person at FE put in charge of scrim planning and onsite implementation at London race.
Andy: Last minute production and redirection of a container set due to logistical issues.
Tom: The weather! Jakarta and Seoul taught me that the rain in England isn't bad at all.
Becki: Working with our client to replace and replicate an entire race's branding within 3 weeks out of the event! A great team effort!
Anna: Getting everything completed on time, juggling client needs mixed with internal processing.
Will: Learning a completely new role to anything I've done before.
Jaz: Heineken backdrop urgent delivery in Berlin.

What was your favourite race to work at and why?
Liam: Seoul. 100th race and it was great to work in a culture I wasn't used to.
Gino: London. It had an E-village and the part of the track entered the Excel.
Andy: Seoul. After visiting two years ago before COVID it was good to see the event through and completed.
Tom: Seoul – The most iconic venue of the season, to work on a track that goes through a stadium with so much history was amazing!
Becki: Rome – first experience of working on open roads, last minute installs due to road closures – but a great learning experience.
Anna: Monaco. Lovely setting and lovely venue/track to work on.
Will: Seoul – Great to visit a completely new culture.
Jaz: Berlin. Despite the challenges it was the first race I gained confidence in and I loved the place & site. I would 100% go back.
Which was the most challenging venue you worked at this season?
Liam: Seoul again due to the language barrier, cultural differences and testing weather.
Gino: London. The venue was massive and getting all our signage back during de-rig was a challenge.
Andy: Rome – always difficult due to the scale of the event, the size of the site and the restrictions in place.
Tom: Jakarta – a new venue for Formula E as a whole and tropical storms made it anything but easy.
Anna: Jakarta! Working in all elements, new suppliers, local crew.
Will: Rome – it was my first event as part of the Bespoke team.
Jaz: New York & Berlin. Both races challenging for different reasons.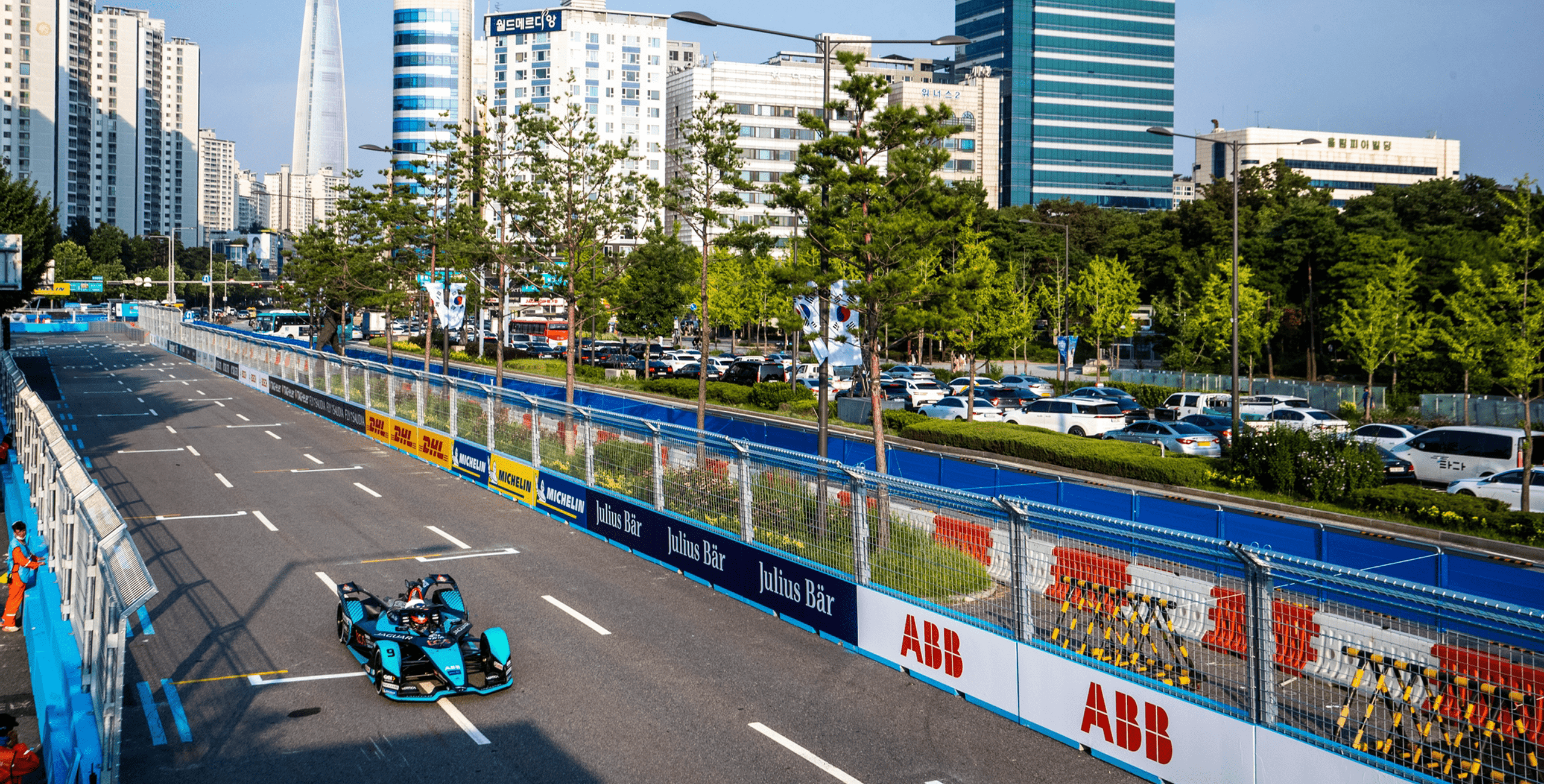 How many different cuisines have you tried and what was your favourite?
Liam: Korean BBQ, Dim Sum, New York Cheesecake. Favourite was Korean BBQ and working as a team to cook it.
Gino: Only 1 and definitely Tagine in Marrakech. It was my first time trying it.
Andy: Too many to count. Favourite was the Korean BBQ.
Tom: Every country I went to I tried out the local cuisine, my favourite was definitely the Korean barbecue. However a notable mention goes to one of the local members of the crew in Jakarta when they brought me chicken wrapped in rice and then wrapped in some leaves.
Anna: 4 or 5 I think. My favourite was trying the very local cuisine in Jakarta. It was extremely spicy but very cheap!
Will: Korean BBQ was a highlight.
Jaz: Schnitzel house in Berlin was one of my favourites.